Die-cutting and Tooling
Workshop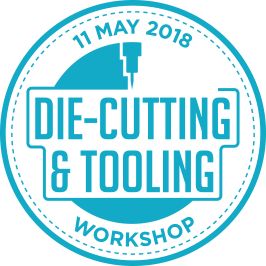 FRIDAY 11 MAY 2018
ROOM: AMBER 4
PRICE: $250 (INCLUDING VAT)
Explore how dies and tooling are produced for different presses and end-use applications. Understand how they can be selected and used for best performance or to add value; why careful pressure settings and adjustments are important for ultimate success; how the correct choice of cutting angles and cutting profiles is required; and why attention needs to be paid to all aspects of handling and storage.
This 3.5-hour workshop will be presented by Andy Thomas-Emans, along with other leading experts from the field of shrink sleeve materials and technology. It is in association with the Label Academy, the global training program for the label and package printing industry.
The price includes the workshop as well as a copy of the text book ($125 if bought separately).
For everyone's benefit, seating is strictly limited. Please book early to avoid disappointment.
FRI 11 MAY
09:00
Introduction to the Label Academy and die-cutting and tooling
Standardizing global training: aims and objectives
Textbooks and modules available
Understanding the nature, role and function of tooling
09:25
Looking at the die-cutting process
Cutting of label webs to shape and size
Creating die-lines and supplying artwork
Positioning of barcodes, proofing and plates
10:00
Optimizing the die-cutting process
Factors influencing the die-cutting process – web tension, speed, friction, and substrates being cut
Stability of the cutting unit and the force required
The geometry of the cutter – cutting angle, die-height and clearance
10:40
Break with tea and coffee
10:50
Embossing, foiling and special tooling
The nature, use and manufacture of embossing dies
The hot foiling process and the use of foiling dies
Special tooling for cutting, perforating, hole punching and slitting
11:30
Setting, measuring, testing and adjusting tooling
The nature and use of pressure gauges – why and how are they used
Hydraulic pressure jacks
Electronic pressure gauges
12:00
Handling, storage and troubleshooting panel discussion
Safety, health and handling guidelines
Cleaning and storage of cutting, embossing and foiling tools
Troubleshooting – where and how problems occur