04 January 2023
Flora will exhibit 5-color Label Press J-330S at Labelexpo Southeast Asia 2023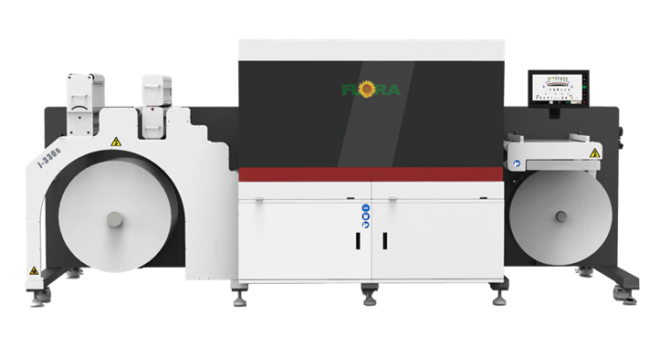 Click on image to download high resolution version
Cost-effective printing configuration
- Small model, compact layout, flexible operation, having a lot of work space
- The maximum printing speed is 60 meters per minute, taking into account high productivity and job flexibility
- The printing width reaches 350mm, broadening the product application of customers.
Stable and reliable printing quality
- Consistent printing quality, support 24-hour all-weather production
- Equipped with high-precision drop-on-demand piezoelectric printheads, and the printing accuracy is as high as 1200*600dpi
- The maximum material roll diameter is 1000mm, and continuous production is not interrupted.
Precise and delicate imaging
- Adopt Single-Pass technology, non-contact printing, one-time molding;
- Support multi-level grayscale printing, and the image is delicate and the color is gorgeous
- The five-color UV ink restores rich colors, and the white ink layer presents a relief effect.
Convenient and fast intelligent operation
- Highly integrated software realizes functions such as quick order acceptance, seamless order change, and small batch customization
- User-friendly operation interface, easy to understand and quick to use
- Automatic nozzle cleaning, moisturizing and anti-scratch system, automatic joint detection, automatic maintenance of machine status;
Quality optimization of label printing
- Support art paper, synthetic paper and film, PE/PET/PVC and other media printing;
- The media system ensures material delivery status, and the rewinding includes a pressing system;
- Apply nozzle compensation technology to reduce the possibility of print quality degradation due to oblique or non-spraying nozzles.