03 November 2022
Jet Technologies and Screen develop new inkjet presses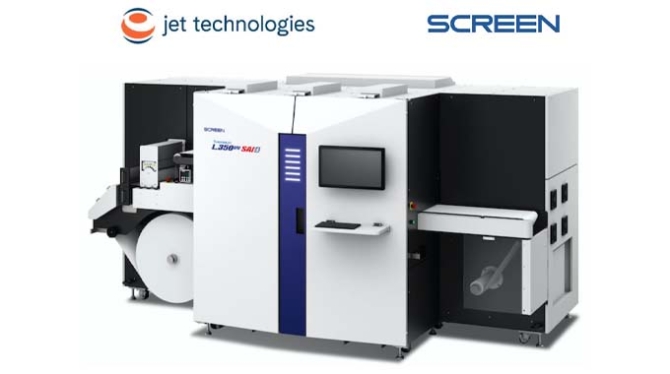 Click on image to download high resolution version
Jet Technologies and its long-term partner Screen have developed two new medium-to-wide format inkjet presses coming to Australia aimed squarely at the packaging industry.
The new presses utilize the latest water-based inkjet technology, enabling printing onto a wide range of substrates, without requiring 'inkjet-specific' materials. 
The first press – with 520mm wide web width – builds on Screen's expertise with this format over many years and in various markets, including transactional on-demand printing and publishing. It is aimed specifically at paper and board printing, taking advantage of the global growth of fibre packaging.  
The second press – a new 830mm format – is aimed at the flexibles market, and print at 75m/min. 
Jack Malki, director of Jet Technologies, said: 'The new Screen inkjet printing innovations made available in Australia through Jet Technologies signals the beginning of a serious shift in the local market towards high performance print-on-demand devices for the packaging sector. 
Malki added that the new presses will enable brand owners to take advantage of the benefits of digital printing. The new Screen platforms will enable them to make the move without making any compromises in quality and productivity, all the while approaching the cost point of traditional print technologies. 
'Today businesses need to be able to adapt to global supply chain issues and being able to print on-demand, represents a substantial advantage over competitors who need to plan many months in advance, only to end up disposing large amounts of pre-packaged product that was not sold. Printing on-demand is associated with the lowest rates of waste, with the first print from Screen presses as good as the last, ensuring an absolute minimum of make-good and reject material from any print run,' he said. 
Jet Technologies has not only had a close strategic partnership with Screen for 13 years, but the company has been a leader in the print and packaging sectors in Australia and New Zealand for over 40 years. Its experience in this segment has been key in assisting clients make the successful transition from conventional to digital printing. 
David Reece, director of Sales for Jet Technologies, said: 'Many businesses think that the journey ends with their purchase of a printer. The truth is that the journey has only just begun, and there are so many aspects that we guide clients through once their press arrives. Having our own demonstration center at Jet Technologies headquarters in Sydney is also a huge benefit to clients as we are able to have first-hand experiences with the various substrates and applications.'