03 November 2022
Ji Sung ventures into hybrid printing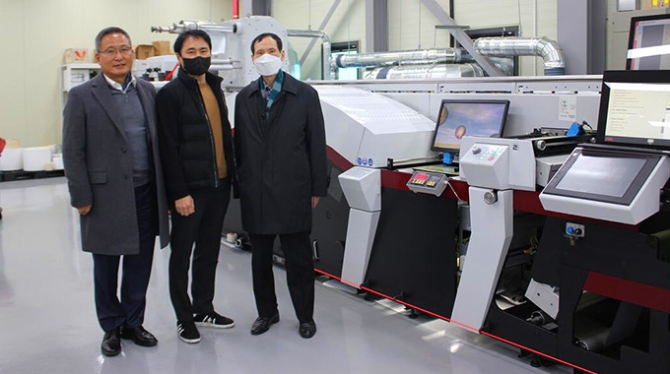 Click on image to download high resolution version
This article by Piotr Wnuk originally appeared in the April-June issue of Labels & Labeling magazine.
South Korean converter Ji Sung has installed the first Mark Andy Digital Series HD press in the Far East. 
Founded in 1996 by Kim Jong-Chul, its current CEO, Ji Sung Technology & Industry has specialized in label production from the outset. It currently serves well-known brands in the pharmaceutical and bio-product markets from its modern production facilities in Suwon, the capital of Gyeonggi Province, in north-western South Korea. 
For many years the company has relied purely on conventional printing technology. Over time, this has been enhanced with addition of digital presses. 
The converter established a relationship with Mark Andy in 2019 by purchasing a 13-inch, 8-color Performance Series P5 equipped with UV drying. Ji Sung's management was so pleased with the machine's benefits and quick return on investment, as well as the local support provided by Mark Andy, that a second flexo machine arrived at Suwon in 2021. This time the company opted for a 7-color Evolution Series E5, also supporting a 330mm web width. 
That same year, Ji Sung turned to Seoul-based Phil Tech International, which represents the American manufacturer in the Far East, to purchase a Digital Series HD hybrid model to replace an existing press from another supplier. 
All three presses were installed and commissioned by Mark Andy Europe, based in Warsaw, Poland, which is also responsible for the service and after-sales support for Ji Sung and other Far East customers.
'We are using the new hybrid technology for short and medium-run production. The Digital Series HD offers single-pass production, so it is far more efficient for these jobs than a flexo press,' says Kim Jong-Chul. 'Because of this investment, we can process our orders faster and successively offer customers a higher level of service. We are now looking for new customers with the hybrid technology and hope to grow business for the entire company.'
Mark Andy's Digital Series HD is a hybrid press that prints and finishes labels and flexible packaging in one pass. The press is equipped with an inkjet module, as well as flexo units and several additional options such as die-cutting and laminating. Ji Sung's management is especially pleased with the new Digital Series HD's Stitch AI automatic alignment system and its UV inkjet module that gives 1,200 DPI resolution printing.
'The Digital Series HD has taken around 20-30 percent of the jobs we previously printed by flexo,' comments Kim Jong-Chul. 'We plan to fill the rest of its capacity with work from new customers. The investment in a Digital Series HD is a good fit for Ji Sung's activities, as the company's priorities are sincerity and a commitment to the highest possible customer service. I'm convinced the new hybrid press will prove to be a great asset for staying on this business path.'
Regional pioneer
'It is very special for us as Ji Sung became the first user of Mark Andy's hybrid press not only in South Korea, but in the entire Far East region,' adds Chi Bum Park, owner of Phil Tech International. 'The local market is becoming increasingly conscious of the opportunities offered by this technology, especially for short and medium-length runs and variable data and versioning of the same job. The investment in three Mark Andy presses was a breakthrough for Ji Sung. In the past three years, the company has grown dynamically and become very well-known across the region.'
Ian Pollock, Mark Andy Europe's service director, who was responsible for delivering, installing, and commissioning the press, commented that the global pandemic of the past two years proved no handicap, despite travel restrictions.
'I should like to take this opportunity to thank Kim Jong-Chul for his trust in Mark Andy. It was a brave decision to invest in two advanced presses at such a difficult time.' 
He also acknowledges the part played by Phil Tech International in supporting the project and is grateful to Mark Andy's partner Chi Bum Park for his commitment. 'Last but not least, I would like to mention our service technicians actively involved in this challenging project,' adds Pollock.
'We are delighted with the first sale of our hybrid press in the Korean market and especially pleased that it's the third Mark Andy press delivered to Ji Sung in a very short time,' adds Tom Cavalco, vice president of Mark Andy. 'It confirmed the high standard of equipment and Ji Sung's trust in the Mark Andy brand and its local dealer, Phil Tech International. We hope all three Mark Andy presses will support Ji Sung to continue its dynamic growth and enable the company to attract business from new markets, both local and international.'