05 December 2022
Luminar and Read Labels & Packaging combine with QLM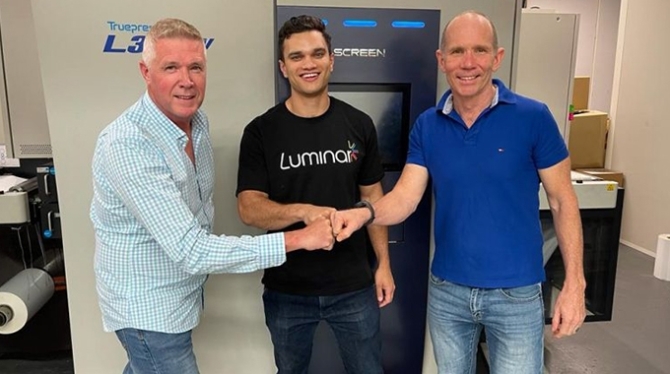 Click on image to download high resolution version
Three Australian owned and operated converters: Luminar, Read Labels & Packaging and QLM Label Makers, have combined forces to create qlmflexibles, a new division of QLM Label Makers, which will offer combined service, innovation and creativity to Australian businesses.
The new division combines three proudly Australian owned and operated companies with extensive experience at their respective locations in Brisbane, Sydney and Melbourne. 
'We are an Australian owned company delivering flexible label and packaging options to Australian businesses, committed to investing in local manufacturing, innovation and development,' L&L read on the QLM Label Maker's LinkedIn profile post.
QLM Label Makers, which has opened a new 3,000 sqm purpose-built label and packaging manufacturing facility in Brisbane, Australia in 2020, joins forces with Luminar and Read Labels & Packaging to combine history of service, innovation, creativity and values to serve customers across a range of market segments and industries with an expanded range of products, including flexible packaging, premium labels, folded cartons, barcode and label printers.
'We are incredibly humbled to combine these three great and innovative companies to provide Australian companies with truly Australian owned manufacturing,' commented Simon Pugh, CEO of QLM Group. 'The group continues to invest in leading technology and solutions across the labelling and packaging sector. 
'We constantly strive for excellence to enable businesses and startups to compete and differentiate their products and shelf presence. We are delivering this to thousands of brands through competitive pricing, cutting edge technology, transparency and on demand lead times.'
Matt Ellis, managing director of Luminar Group added: 'For over 20 years Luminar has been working with businesses to achieve great results by enabling access to high-quality packaging and beautiful labels produced locally, providing competitive pricing with the kind of transparency, honesty and fairness business owners need to grow.'
'We strongly believe in the use of technology and innovation to stay ahead of the competition. After 25 years it is time for us to grow and be able to deliver new technology, products and innovation for you. We hope you are as excited as we are,' concluded Ross Read, founder of Read Labels & Packaging.