22 May 2018
Resounding success for first Labelexpo Southeast Asia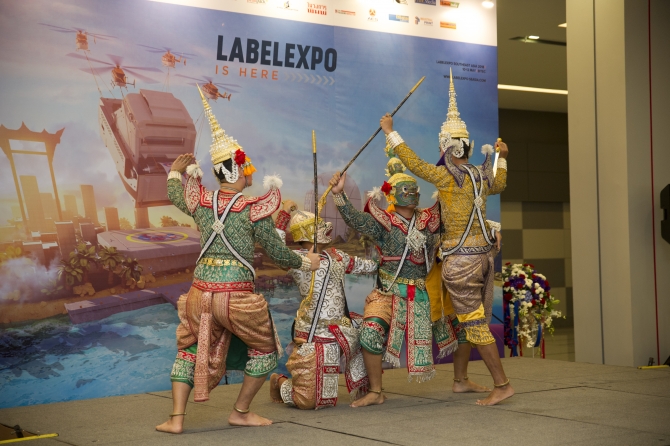 Click on image to download high resolution version
The launch edition of Labelexpo Southeast Asia – the biggest label and package printing event in the region – has exceeded all expectations, with 7,934 attendees from 62 countries flocking to BITEC in Bangkok, Thailand for the three day show from 10-12 May. Exhibitor rebookings for the next edition in 2020 already stand at 42 percent – the highest following a Labelexpo event launch to date.
Aimed at connecting printers/converters, brand owners, label and package printing technicians, buyers and design specialists, the event attracted strong delegations from across Thailand, Indonesia, Japan, Malaysia, the Philippines, Singapore, South Korea, Vietnam, plus Australasia. Enthusiastically supported by the Thai Department of Industrial Promotion (DIP) under the Minister of Industry, and the Thailand Screen Print and Graphic Imaging Association (TSGA), Labelexpo Southeast Asia 2018 covered over 4,100sqm and hosted exhibitors from 174 of the global industry's principal manufacturers and suppliers. These included Bobst, Epson, Flint Group, GEW, HP, Konica Minolta, Lintec, Mark Andy, Nilpeter, Omet, RotoMetrics, UPM Raflatac, Xeikon, Yupo Corporation and Zhejiang Weigang Machinery Co. Almost a quarter of these were exhibiting at Labelexpo for the first time including Berli Jucker, Flying Man Assembly Automation, IGS Asia Pacific, Navitas Vision Solution, Ojitac, PMC Label Materials, Press Systems, Techno Global Graphics and Tsukatani Hamono Manufacturing.
Machinery on display on the buzzing show floor included HP Indigo's recently launched WS6900 digital press, Omet's iFlex press with 10 UV flexo colors and a 370mm (14in) web width, Nilpeter's FA-line press, Nagase Thailand's AWP-DEW water washable flexo plate system featuring Clean Transfer Technology, BST eltromat Southeast Asia showcasing systems from the TubeScan range and Zhejiang Weigang Machinery's flexo press, ZJR-330. Other demonstrations included Xeikon's 3300 roll 2 roll configuration and high quality production of self-adhesive and heat-transfer labels, ThermoFlex's ThermoFlexX 30, supporting plate sizes up to 635 x 762 mm and 3,94 mm thick, Siegwerk's latest range of reliable and user-friendly solutions for narrow web applications, Konica Minolta's digital label printer, the AccurioLabel 190, Tokyo Ink Group's new line of UV inks and UV flexo inks, and AVT's 100% print inspection products Helios S Turbo+ and Helios Turbo HD+ which include inline and offline inspection, color monitoring and barcode verification.
Running alongside the main exhibition was a two-day expert-led conference program, developed in line with feedback from printers in Southeast Asia. These topical learning sessions proved extremely popular with label and packaging printers, brand owners and designers. The opening session on 10 May was delivered by Harit Hiranyaphinant, deputy managing director of Copack Co. and TSGA member, who gave an overview of the label printing industry in Thailand and how to capture the future of the industry. Later sessions featured extremely well-received presentations from Brenton Barrett, president Asia Pacific of Multi-Color Corporation, who looked at market trends in Southeast Asia and globally; and Ryan Shaw, creative director Southeast Asia of Landor, who examined business models and 360 degree design thinking.  A CEO printer panel moderated by James Quirk, group managing editor of Labels & Labeling, featured panelists including Piyapong Wongvorakul, managing director Trisan Printing (Thailand); Peter Woods, director and COO Southeast Asia QLM Label Makers (Malaysia); Adrian Pratiwhiharja, president and director PT Interflex Sejahtera Perdana, and Brenton Barrett.
Another show highlight was the sold-out Label Academy workshop covering shrink sleeve technology, which took place on the final day of the show.  Moderated by Andy Thomas-Emans, strategic director Labelexpo, topics covered included design and origination, inks, substrates, and converting and application technology. The workshop ended with a presentation on quality control and fault finding by one of the global industry's leading shrink sleeve experts, Dr Séamus Lafferty, president of Barry Wehmiller company Accraply.
Jade Grace, project director for Labelexpo Southeast Asia said:
"We are absolutely delighted with the success of our very first Labelexpo Southeast Asia, which, as our most successful show launch to date, has exceeded all expectations. Visitor feedback has been excellent, with major sales deals being closed on-site and the high calibre of buyers at the show highlighted as invaluable for sourcing new contacts and partners who will be able to help printers improve profitability, quality and efficiency in order to stay one step ahead of their competitors." 
Dr. Kittichote Supakumnerd, Engineer at the Division of Innovation and Industrial Technology Development, Ministry of Industry in Thailand, said:  
"The Ministry of Industry extends their congratulations to the success of the Labelexpo Southeast Asia in Bangkok and recognize the great benefits this trade exhibition can bring to Thailand with the introduction of new technologies, materials and other innovations for labeling, printing and packaging applications.

"It is estimated that over 1 billion Baht of trade will be conducted as a result of the event in Bangkok and this will provide an even greater multiple effect for the investing businesses and the support industries for the event and the industry here in Thailand.
"The attendance to the event came from throughout Asia most notably from Japan, China, India, Malaysia and Singapore, it was a truly international event that will bring continued advancements to the industries it serves in Thailand and throughout the region.
"The exhibition and co-located conferences also help develop all areas of industry from SMEs to large scale export driven manufacturers, and we look forward to supporting and welcoming the return of Labelexpo Southeast Asia in May 2020."
Chaiwat Hansomwong, Chairman of Thai SMEs Council agreed:
"I would like to thank Labelexpo for inviting us to join the opening ceremony of Labelexpo Southeast Asia in Bangkok. Labelexpo is the international printing trade fair which gathers printing technology and innovation under one single roof of the label industry. That's why almost all the leading products and brand suppliers as well as printing machine producers are interested in showcasing their new technologies at Labelexpo Southeast Asia in Bangkok. This success was demonstrated by the number of visitors from across Thailand and Southeast Asia. I hope that Labelexpo Southeast Asia in Bangkok in 2020 will continue to present new innovations and technology, and successfully build up this region as a label printing technology hub."
Ms Grace added:
"This success bodes extremely well for future editions of the show. Thailand has proved to be the perfect location, in a region that is emerging as one of the world's fastest growing manufacturing hubs and consumer markets, and we are grateful for the Thai Government's and TSGA's unwavering support in getting Labelexpo Southeast Asia off the ground.

"Given the success of this launch edition, it is poised to be a game changer for the region's printers and has great potential to become one of our largest Labelexpo events. Floor bookings for our 2020 edition are already flooding in – the fastest ever for a Labelexpo show. Thank you to everyone involved and we look forward to returning to Bangkok in two years' time. Labelexpo Southeast Asia really has arrived."

Quotes from exhibitors:
Jakob Landberg, Nilpeter: "This first Labelexpo show in Southeast Asia was indeed a success for Nilpeter. The stand was busy throughout the show with visitors from all over Asia - and even some from Africa, the Middle East, and South America. We sold several presses, established new contacts with various decision makers, and identified new projects to be handled in coming months.
"The new FA generated great feedback from the visitors who showed a lot of interest in this versatile, state-of-the-art flexo press. Our main takeaway is that the Thai market is thriving, and the Nilpeter Technology Center in Bangkok is pivotal in this aspect."
David Jones, Alphasonics: "We were pleasantly surprised at the number and quality of the visitors. We were busy from start to finish, with people still on the booth as the show was closing on the last day."
Thomas Grimm, Erhardt+Leimer: "Labelexpo Southeast Asia 2018 was better than our expectations. Even knowing about the quality of the Labelexpo worldwide and the requirement for such a show in Southeast Asia we were positively surprised by the amount of visits at our booth and the quality of the discussions we had during these three days. We have concrete projects we will follow-up in the next days and weeks and are sure that additional business will be created due to participation. We have already made the decision to participate in 2020. Great job done from the organizers - congratulations."
Maurizio Trecate, Bobst: "We expected Labelexpo Southeast Asia to be an excellent platform for the launch of the BOBST M1 IoT, the first connected label press, and we were not disappointed. The show was fantastic for the number and quality of visitors across the board in terms of profiles and nationalities. In addition to deals closed at the show, we recorded a huge number of leads and have a very busy time ahead with the follow up of enquiries and negotiations already started at the show."  
Melvin Lew, HP Indigo: "HP Indigo was proud to participate in Labelexpo South east Asia 2018 and demonstrate for the first time in the region our most significant labels and packaging new product innovation this year, the HP Indigo 6900. We are sure that this show will become a milestone marking the growth we see in the Southeast Asia Labels industry and how global trends are creating more change opportunities for convertors to become more profitable and innovative with digital and HP Indigo technology."  
Alvin Poon, Epson: "It was a good show for Epson and we've received good responses to our showcased solutions. Interest level for on-demand colour label printers and industrial digital presses was high. It was a good platform for us to engage with our target audience and network with industry experts."
Paul McKay, RotoMetrics: "A great show. Our team and I met with many existing and new customers, as well as our OEM partners in the label printing / narrow web industries. Many thanks to the Tarsus team for putting the Labelexpo footprint into the biggest and most important market in Southeast Asia, and we look forward to doing it again in 2020."
Shaun Pullen, Mark Andy: "Overall we were very happy with the show quality, organization and attendance. We were visited by plenty of new and existing potential customers and were pleasantly surprised at both the quality and diversity of these attendees. Not only did we get visits from a large contingency from SE Asia but also the Middle East, Africa and Australasia. Next time we look forward to an even bigger show and engaging with even more potential customers."
Phatthira Sangchansri, Techno Global Graphics Co.: "Techno Global Graphics Co., with our suppliers AB Graphic International, Contilaserline, Flexo Wash, Grafikontrol, GSE Dispensing, Kocher+Beck, SPGPrints, Unilux, and Vetaphone had a very successful Labelexpo Southeast Asia 2018. Flexo Wash sold 7 machines, Vetaphone sold 1 machine and ABG Digicon sold 1 machine. Moreover, we can get new prospects. Thank you to Labelexpo Southeast Asia 2018."
Kamol Sirichan, Bestrade Precision: "Labelexpo in Thailand was organized professionally.  Our company has got many inquiries from both local and foreign visitors during the 3-day show.  We considered this show a successful event for us."
Daniel Kuah, Capitol Gravure Group: "A wonderful experience at the Labelexpo 2018 in Thailand, filled with sales and business opportunities. The Capitol Gravure Group WILL definitely participate again when the Labelexpo presents itself again! Khabkhun Kap!"
Smoos Peng, Voyantic: "We did meet more and more traditional label companies in Southeast Asia countries expressing their interest in adding RFID technology into their product portfolio. In fact, it is not difficult for a label company to enter the RFID/Smart label business as their core business already comprises of printing and converting. What they really have to learn is how to manage the RFID label quality. Voyantic has been in the RFID measurement and testing business since 2004, we would like to help label companies make their product smarter."   
Eadric Wui, Phoseon Technology: "Congratulations on a successful show. I feel that we had a very good show and was happy to be able to be part of the first Labelexpo in Southeast Asia. There is a very good flow of visitors as compared to other printing shows that we had participated in the region and although it only consists of 1 hall, I think being focused solely on the labels printing technologies allows us to have a better understanding about this market in the region as well as knowing more targeted customers."
Bent Serritslev, Xeikon: "Well organized and great show facilities, and with growth in number of visiting converters over time this can be an important show for the Southeast Asia region."
Patsy Ng, Tradeally: "Labelexpo has been one of the few exhibitions that Tradeally has handpicked to participate and the response is overwhelming. The event's visitors are our target audience and potential leads who knows what they want and came with a clear agenda. We have secured orders from this show and have managed to bring much publicity to our machinery, thank you so much."
Rajesh Babu Dora, Esko (on the Shrink Sleeve Technology workshop): "Organizing this type of workshop is really important to increase the awareness in the industry and share the knowledge. Especially from the experts sharing the knowledge and using real life examples are priceless."
Neeraj Thappa, Monotech Systems: "Labelexpo Southeast Asia, as being the first show in the region, went as per our expectation. We enjoyed talking to visitors and they also have shown great interest in our products. Monotech Systems already has its footprints in that market, the event helped us to reach more people, not only from Thailand, but the complete ASEAN region. We learnt the market trends, new technologies and the market acceptance to technologies displayed throughout the show. With the latest addition of Labelexpo Southeast Asia, we expect to increase brand awareness and reach in the region."
Jon Jordan, Troika Systems: "Troika Systems attended the first Labelexpo Southeast Asia to allow potential customers of our technology to be able to meet our regional agents and see the products in action. For us, Labelexpo Southeast Asia met all our requirements and we are very pleased with the quality of leads taken and potential business generated." 
Jing Yang, KPowerScience: "A Taiwan-based company, we presented a fully digital total solution for labels, composed with WINJET 168RC color inkjet printer (Memjet technology) and WINJET LF600mini continuous digital die cutter, at Labelexpo Southeast Asia.  The compact solution enables the users to create their own color labels with variable data within limited space.  As it is an entry-level label solution, both personal users and professional label producers can realize their label designs easily. Southeast Asia is a region full of energy and cultural diversity, and we believe Winjet solutions will be the versatile partners to unleash the amazing local creativity here."
Eileen Ang, Armor Asia Imaging: "Labelexpo Southeast Asia was an opportunity for us to present the range of products and services Armor offers in support of the development of the Thermal Transfer Ribbon market, in particular our new inkanto range of ribbons and enhanced range of added-value services. It certainly didn't disappoint. As with other Labelexpo events, it proved to be an excellent trade platform for us and will help us widen our client base."
Quotes from visitors:
Brenton Barrett, Multi-Color Corporation: "As usual the Labelexpo team does it again! This year's Labelexpo Southeast Asia was a truly great event and run with the typical professionalism that we have come to expect from the Labelexpo team, with 62 countries in attendance and solid support from the industry exhibitors. It made for an excellent networking and learning opportunity."

Labelexpo Southeast Asia is part of the hugely successful Labelexpo Global Series, which also includes its biennial Labelexpo Asia, taking place in Shanghai from 3-6 December 2019. The previous edition in 2017 attracted 20,084 visitors, with 300 exhibiting companies, including 80 first time exhibitors occupying 10,774sqm of space.
Key facts about the Southeast Asian label and package printing market:
Label consumption is pitched at around 6-7 percent growth.
Key growth drivers include high inward investment, a young demographic and a burgeoning middle class which is driving consumer consumption.
The region has a collective population of around 640 million and comprises 10 very diverse and dynamic economies which are each in different stages of transition.
The overall printing and packaging industry is likely to expand by 5 percent this year and continue to grow for the next three years. The industry is worth around 400 - 500 billion baht this year, particularly in Asia where label printing has expanded by 6 – 7 percent. (Source: Department of Industrial Promotion, Thailand.)