06 February 2020
Phoseon to display Firejet FJ605 UV LED lamp for flexo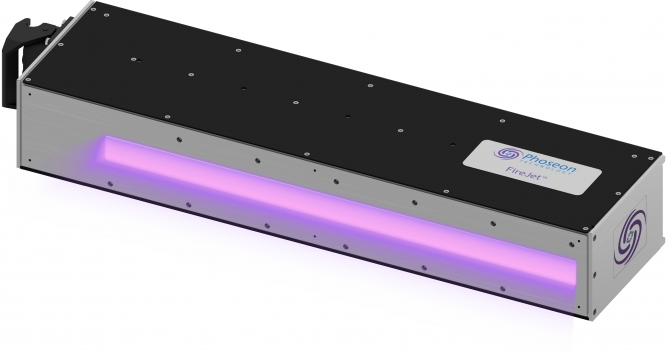 Click on image to download high resolution version
Phoseon Technology will showcase the FireJet™ FJ605 UV LED self-contained air-cooled curing lamp for flexographic applications at Labelexpo Southeast Asia 2020.
The FJ605 introduces market-leading air –cooled irradiance level up to 20W/cm2 with a three-year standard warranty. It has increased total UV output power performance for superior dose delivery, an advanced control interface and is available in lamp lengths that cover the gamut of narrow and mid-web presses.
The FJ605 was designed for press manufacturers and convertors looking for market-leading performance and digital control. It is ideal for applications that require up to 1,000 fpm (300m/min) in print widths of 600 mm or 675 mm and advanced digital interface capabilities for tight process control, such as low-migration processes for food packaging.
Features and advantages of the FJ605 are that it's a high-performance self-contained air-cooled solution that does not require exhaust blowers or water chillers. This uses less system power when compared with traditional mercury and water-cooled offerings, saving convertors energy expenses while still operating presses at high speeds.
The FJ605 has the performance necessary to increase speed capabilities of market leading presses and compact enough to retrofit existing installed presses, giving converters the opportunity to do more business now.