16 December 2022
PSG latest 'Air cool' UV LED curing system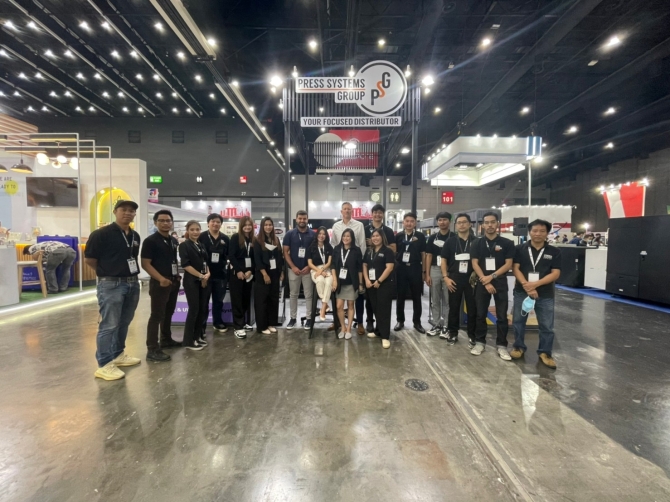 Click on image to download high resolution version
Press Systems Group (PSG) is a leading distributor of printing products in Southeast Asia. PSG's portfolio covers both Flexo, Offset and Gravure markets.  The company is the sole distributor for the following leading industry brands in Thailand and S.E. Asia:
GEW (UK) - UV & UV LED systems
ZELLER+GMELIN (Germany) – Printing Inks & Coatings
Universal Engraving (U.S.A) - Hot stamping & Embossing dies
ALPHA-CURE (UK) - UV lamps
Swedcut (Sweden) – Doctor Blade
Sandon Global (UK) – Anilox rollers
Rotometal (Poland) – Magnetic & Printing cylinders
Innova (Germany) - Mounting tape
Rhyguan (China) – Finishing Machinery
At Labelexpo Southeast Asia 2023, PSG will showcase the latest 'Air cool' UV LED curing system, AEROLED, from GEW, combines with UV and UV LED inks from ZELLER+GMELIN. PSG will be demonstrating LED curing performance using both lab units and on actual press run with Rhyguan's finishing machine. PSG will also be showcasing 3 Rhyguan machines, which include TOP-330-2 (Semi/Full rotary die-cutting machine & Inspection system), WON 370 (Automatic slitter rewinder). The TOP-330PLUS will include one Flexo printing unit using the following leading brands available from PSG; GEW UV LED Curing systems, SANDON Anilox roll, SWEDCUT Doctor blade and INNOVA Mounting tape.