03 November 2022
Shedding digital light on SMEs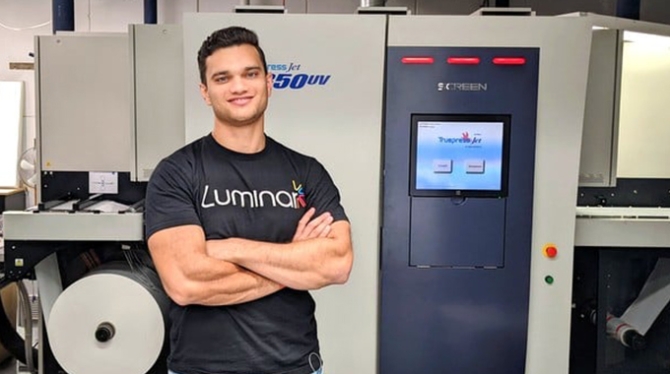 Click on image to download high resolution version
This article by Piotr Wnuk originally appeared in the July-September issue of Labels & Labeling magazine.
Australian converter Luminar has expanded its digital printing capacity to give small businesses high-quality packaging ready for competing with big brands.
Luminar's story started from humble beginnings nearly two decades ago. It has been growing steadily, building on years of experience and reputation. Luminar now operates with a team of 20 and relocated from a small facility in Castle Hill to a 1,000 sqm warehouse in Riverstone, north-west Sydney, after changing its name in 2018.
'Luminar has been around for over five years; however, I started my career in print in my dad's company, which was then called Avonlea Labels. So, altogether, I've been in the industry for about 11 years,' recalls Matt Ellis, managing director of Luminar Group. 'My dad started his business out of our garage in 2005. He was working on a two-color flexo press while my mum took care of the accounting side of the business and answered all phone inquiries.'
Ellis comes from a marketing background with a focus on online advertising. Before joining his parents, while he was selling Google Ads, he persuaded them in 2007 to develop a website and invest in digital marketing.
'That was the catalyst to getting my parents out of the garage,' adds Ellis.
He joined the business 11 years ago as its fifth employee. He immediately noticed enormous demand for high speeds, variation and low-order quantities.
'I had a chat with my dad about taking the digital label trend seriously. And soon after, he flew me to Melbourne to negotiate our first HP Indigo press. The rest is history,' notes Ellis.
Five years ago, he bought the business from his father to create a hybrid digital label and flexible packaging facility. He has grown the company from 12 employees to around 22. Positioned as a hybrid digital labeling and flexible packaging company, Luminar's broad customer base includes industrial, automotive, and food and beverage clients.
'With such a diversity of customers, we needed a technology that would increase our printing efficiency without sacrificing quality or attention to detail. Since October 2021, our flexible packaging sales have grown by over 1,000 percent, and to continue servicing our customers at the highest level, we felt the Screen Truepress
Jet L350UV was the best solution for us and our customers to cater to this business growth. The decision to select this machine came about after a long association with Jet Technologies, which systematically proved the L350UV's unrivaled reliability and high productivity,' says Ellis.
'Having the local support from Screen and Jet Technologies made the decision a no-brainer, and we are excited about the additional strength this system will provide for our already-strong printing capabilities. Since working with the new system, we have found that it is incredibly efficient and agile, offering a wide range of materials used to service our existing customers while also supporting our growth trajectory.'
Implementing the L350UV has extended Luminar's digital printing capacity and streamlined its existing digital operations. 'We have worked with Luminar for many years and are very excited at the digital printing opportunities that the L350UV will bring for its business,' adds David Reece, director of sales at Jet Technologies.
Luminar focuses on established small and medium businesses as well as innovative and hyper-growth businesses such as My Muscle Chef and Mingle Seasoning, and craft beer and health and beauty clients. Small businesses are the backbone of the Australian economy, and despite the effects of Covid-19, entrepreneurs continue to start up new operations to achieve their dreams. In fact, by the end of June 2021, there were more than 2.4 million actively trading businesses country-wide – a 3.8 percent rise on the previous year.
Small focus, big ambitions
'When I took over the business from my father, I chose a new name – Luminar. "Lume" translates to light, and at Luminar, we help shed light on our customers' products and businesses,' says Ellis. 'We want to highlight their story, brighten up their brand, and ensure each product radiates through the packaging and labeling. It's a meaningful name and encompasses everything we do.
'For small businesses, how you present your product is often the difference between a purchase and a lost sale – it's simply the nature of fast-moving consumer goods. That means you need the right packaging to get eyes on your products, and digital can deliver far more than traditional. We have a passion for educating our customers on the buying journey and the positive impact on-demand short-medium run lengths can have on any business, and I feel our responsibility to help customers understand all their direct and in-direct costs associated with buying in bulk.
'However, small businesses often can't afford to source their printed packaging from traditional providers. Not only are there eye-watering setup and labor costs, but the long waiting times can be hugely detrimental to cash flow management. Unlike digital print packaging, conventional techniques usually require a high minimum order that could be anywhere from 10,000 to 100,000 units per SKU. That's not feasible for most small FMCG businesses with multiple products and razor-thin margins. Furthermore, we want to enable SMEs to drive growth to their business, rather than have their cash flow locked up in bulk-run packaging.'
Luminar aims to break down the barriers to high-quality print packaging by turning all the drawbacks of traditional solutions on their head. Its hybrid and digital printing equipment, including the recently installed Screen press, aims to deliver premium packaging at a low cost and in a much shorter turnaround time.
Shaking up supermarket shelves
As for almost every other business in Australia, the pandemic brought tremendous challenges amid massive growth for food company Mingle Seasoning, a relatively new brand offering a variety of sauces and seasoning created for busy individuals and families who want to connect around food. When Covid-19 arrived, the Mingle brand grew rapidly and needed a partner with insight, technical knowledge and support.
'Our business is trying to break the mold in the flavor space through more than just product quality,' says Adam Morris, managing director at Mingle Seasoning. 'Our packaging design is a key strategic element of our marketing strategy and is a pillar of the business. We do not have the marketing budgets of the larger players, so our products need to stand out on the shelf.'
Mingle Seasoning decided to work with Luminar because of its attention to detail and a keen interest in working alongside customers – rather than treating them as a 'revolving door of income.'
'Its industry knowledge, problem-solving ability, and genuine interest in the success of our business has been refreshing but also integral to our journey so far,' adds Morris.
Luminar helped Mingle source new packaging formats, offered more economical options, and worked collaboratively with the client to help them optimize their production and impact on cash flow.
'Luminar helped us launch our first range of sachets into the market, among other product formats,' continues Morris. 'These sachets have become some of our most popular products and are in a unique packaging format. The sachets are for sale in Australia's major retailers, and are also being exported to New Zealand. As these products have matured, Luminar has been a part of our optimization projects through cost reductions and material adjustments, which have helped us drive more promotional growth with the savings.'
Muscling into the supplements market
FWD Form Nutrition entered the supplements market looking to create products that are natural and beneficial to those looking for continuous improvement. A naturopath, who helps formulate the supplements, suggested the co-founders Elle and Scott meet with Luminar, which eagerly stepped in to help the brand package its products and break through in a crowded market.
'We wanted to create packaging that looked clean,' Elle says. 'It needed to
look sleek, clean and premium. People consuming our supplements need to trust that they are high-quality products. The FWD Form Nutrition brand is about leaning into the uncomfortable and improving yourself, and we want our community to be inspired by that.'
Scott adds: 'We had an initial conversation about getting a stand-up pouch for the supplements and then trying to figure out how powder would fit into them. Luminar helped to highlight a lot of issues because we didn't realize how hard it would be.'
FWD Form Nutrition has recently launched an online shop, which is just the beginning of its journey. Now that the founders have the right packaging, they can start bringing its core mission to market: inspiring people to go after what they want, whether in fitness or their career.
'Mingle and FWD, for me, are examples of exactly what I'm in this business to do, to facilitate growth,' says Ellis. 'Our purpose is to help businesses sustainably, innovate, and grow confidently.'
One of Ellis's biggest goals is to make labels and packaging as easy to purchase as a pair of shoes. 'I want to promote a digital-first mindset, and not just in the sense of digital print, but also in the way that we run and operate our business, our processes and procedures, and how we communicate both internally and to our customers and suppliers,' concludes Ellis.