03 November 2022
Unlocking remote power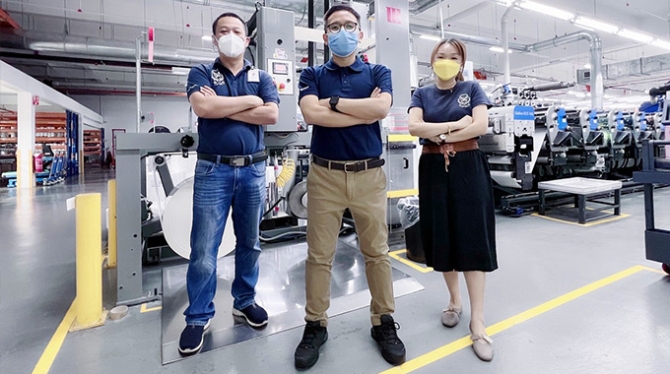 Click on image to download high resolution version
This article by Piotr Wnuk originally appeared in the April-June issue of Labels & Labeling magazine.
Impressed with a significant productivity boost, Malaysian converter Mega Label has invested in a second Martin Automatic machine – installed remotely due to the pandemic. 
Mega Label began as a small print shop located near the border with Singapore in Johor, Malaysia, in 1987 with just one printing press and six employees. It has grown to become one of the country's major players in the narrow web market with a team of more than 200 staff.  
The company currently supplies labels to the food, pharmaceutical, clothing and healthcare sectors from its modern 6,000 sqm plant. In 2011, Mega Label opened an additional production facility in Malaysia, closer to Kuala Lumpur, in Selangor, to cope with increasing demand and shorten delivery times. Just a year later, in 2012, the company set up a third plant, this time in Cambodia, to fulfill the growing demand for textile labels.
Mega Label operates several presses covering various printing techniques, including letterpress, flexo, digital and screen presses, and buys only established manufacturers such as HP Indigo, Durst and Gallus. 
The converter prides itself on strong values and focuses on its employees. The management team is continuously working to create a safer and better workplace for its team. It pursues efficiency through Kaizen, a practice of continuous improvement through innovation and evolution. One of the keys to the company's success has been its policy of personnel development, by providing professional training for its team and creating an atmosphere of positive working attitudes and an efficient working environment.  
The company also emphasizes the importance of sustainability by using an environmentally friendly systems such as renewable energy solar panels and wastewater management, to save energy. 
'Our target is to improve efficiency by replacing the unnecessary heavy work of our operators with automation, and in this sector of the market, there is no better manufacturer than Martin Automatic,' says Edmund Chan, group general manager at Mega Label. 'Its non-stop systems de-stress our operators by managing reel changes of material, allowing them to focus on other important tasks. This is a great boost for the overall morale.'
Productivity 
The first Martin Automatic technology at Mega Label, installed in 2018, was an MBSC non-stop unwind/splicer and an STR automatic transfer rewinder, fitted to a 10-color Gallus ECS 340 press. The machinery had an immediate impact on productivity and waste levels.  
'We save around 5-10 percent of the material and 5-10 minutes per roll change – and these make significant contributions to productivity and therefore profitability,' confirms Chan. 'It also has a beneficial effect on the environment.'
After registering such significant improvements in terms of productivity, Mega Label decided to order a second set of MBSC/STR machines in 2020 for its latest Gallus press, another ECS 340. 
A new challenge was presented by the worldwide pandemic. Covid-19 spread around the world, posing significant travel disruptions and bringing air traffic to a halt. Engineers, who would usually fly to Malaysia to manage the installations, could not leave the US. However, Mega Label and Martin Automatic technicians set about creating a plan to see the new equipment installed and running in commercial production quickly, despite travel bans.
To ensure all practical details were covered, a pre-installation video conference was arranged to review all drawings and instructions so that both parties were comfortable with their respective tasks.  
'Mega Label's engineers are very competent, and we had our technicians on stand-by throughout the installation,' recalls Travis Yang, Martin Automatic's regional sales manager for Asia. 'The fact that it all went smoothly and quickly speaks volumes for the functional and pure design of Martin equipment, which combines a robust working capability with easy handling.'
If there is any positive to be drawn from the pandemic, it's the increased use of modern communication technology that allows companies to keep their customers satisfied, undergo complicated equipment installations and fully train converter's staff remotely.
As with most manufacturers of capital equipment, the global pandemic and all that it has involved regarding travel restrictions have forced Martin Automatic to innovate ways of working to keep its customers satisfied. The company continues to explore all forms of communication and instructional videos to supports it customers in the most cost effective and efficient ways.