03 November 2022
Yixun ramps up digital investment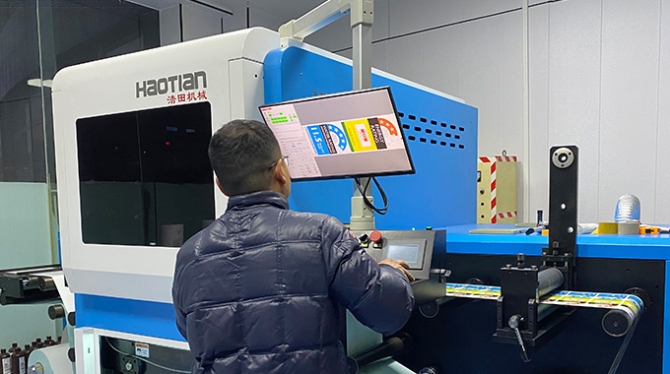 Click on image to download high resolution version
This article by Yolanda Wang originally appeared in the April-June issue of Labels & Labeling magazine.
The Shandong, China-based label converter is learning how a digital press fits into its conventional operations. 
Founded in 2003, located in Qingdao, Shandong Province, Chinese label converter Yixun has an annual per capita output exceeding 1m RMB (151,320 USD).
In 2021, the company invested in its first digital press – a Haotian HTS330 inkjet machine. In 2022, the company will install the latest Label Source F6 in-line flexo press, with 12 color units and two rotary screen printing units.
Transfer into printing
Lv Zhitao, general manager of Yixun, worked in his early days in the adhesive tape industry before founding the Yixun company, which was originally mainly engaged in the production and sales of a variety of adhesive tape products. 
Later in 2013, he began to transform the company into a label converter by chance.
So how did he enter this industry? 
'At that time, we considered tape and self-adhesive labels both belong to adhesive products. Many tape users also need self-adhesive label products. On the other hand, more importantly, I think PS label printing has higher added value and greater potential than tapes for future development.'
In the early stages, Yixun experienced rapid business growth. But as he entered more deeply into the label business, Lv Zhitao discovered the significant differences between the two industries, especially with regard to equipment investment. 'For tape production, the equipment is relatively simple and the upgrades do not come as quickly as for label presses. Label production is more complex, and you are required to invest in a range of equipment from pre-press plate making to printing, die-cutting, stamping and inspection.' 
He adds: 'And these machines need to be updated according to customers' needs, especially to support new processes and technologies.'
Lv has invested heavily in new equipment. When L&L visits, Lv explains: 'The machines you see now in our workshop are all newly invested in the last two years. We update our equipment very regularly.'
Today Yixun is equipped with two Qianrun full rotary letterpresses, two Fuji sheetfed digital toner presses, a Haotian intermittent letterpress, Polly rotary die-cutting machines, Daheng online and offline inspection systems, as well as a laser die-cutting machine and CTP plate making unit.
In order to ensure the highest levels of efficiency in the event of equipment failure or maintenance, Yixun's equipment is all duplicated. 'For the Qianrun rotary letterpress, for example, we first purchased a machine equipped with a cold stamping unit. In the same year, we invested in the second Qianrun letterpress. This is mainly to guarantee production in case one machine has broken down or is undergoing maintenance.' 
The company also holds a high level of dies and magnetic rolls in stock. 'This is in consideration of the needs of customers for different formats of label products. When the flexo printing machines are installed, we also plan to equip ourselves with multiples of different size cylinders.'
Reviewing the development of Yixun, Lv Zhitao says: 'This is not a simple industry. This is especially true in the face of multiple pressures from Covid-19, rising raw material costs and more rigorous environmental protection policies. We are very lucky because Yixun has accumulated a lot of high-quality customers after many years' efforts. The company's total output in 2021 has grown at a very small pace compared with 2020, which is the common situation of many of our peers.'
Digital
In 2021, Yixun invested in the company's first inkjet press – a Haotian HTS330.
Lv Zhitao had been paying attention to digital printing since the company began its move into labels. 'With the purchase of this digital press, our main consideration is to understand digital printing technology through actual production, and so prepare for our future development. We also have purchased Fujifilm toner digital presses before this investment, and produced some variable, customized label products.
'We have cooperated with Haotian for a long time. The first equipment we purchased was a Haotian rotary letterpress machine, and then we purchased two Haotian intermittent letterpress presses. Our two companies know each other very well and have established a deep foundation of trust and cooperation. We have noticed the continuous improvement of Haotian's digital machines over the years and also had an insight into the user experience before our investment.'
Before the installation of the equipment, Yixun did not do any proofing or testing. 'Haotian has accumulated years of technical experience and market feedback, so I believe Haotian will support the equipment to the best of their abilities.'
The digital press was installed in the middle of October 2021. At present, the production capacity of this machine has not been fully realized, and it is operating around four hours a day.
'This is all within our expectations,' Lv says. 'At this time there are not many customers who will accept the performance of digital printing of labels. Some customers have been forced to accept the use of a digital press because of short orders or tight delivery times. Just as label converters need time to understand and accept digital printing technology, brand owners and customers also need time to embrace digital.
'What's more, we should know that digital technology is not perfect. It is just another technology alongside letterpress, flexo or offset. We could combine our digital press with any other conventional printing technology. We are also already in communication with Haotian to purchase a second digital machine with more colors.'
Today Yixun mainly produces PS labels for vehicles and boats, electrical appliances, food and beverage industries. 'After the installation of the Haotian digital press, along with the two Fujifilm sheetfed digital machines, our company will gradually transfer proofing or small run orders from our conventional presses. We have also tried producing personalized, variable information and other special orders such as anti-counterfeit labels through a variety of process combinations,' Lv says.
Cooperation
Speaking about the development of the label printing industry in China market, Lv Zhitao says: 'Over these years on the front line, I have operated different printing equipment and finishing machines and new technology, new materials and new systems keep emerging. This is especially important as we face increasing competition, a looming shortage of paper, stricter environment policies and rising prices. Label converters need to focus on the latest developments, to utilize new technologies to upgrade production capacity and reduce costs.' 
The company's latest investment in a Label Source in-line flexo press is based on such considerations, with its higher production efficiency and automation level.
While focusing on the company's development, Lv has also learned from the experience of industry peers in other regions of China. 'Compared with the consumer-driven markets of east and south China, the demand for new technology in Shandong is not so high, and competition is fiercer. And label printing peers are more defensive: industry communication and cooperation is much less than other areas of China. All this is actually obstructing the progress and development of the industry. Competition among peers is inevitable, but for long-term development, we need to cooperate with each other for mutual benefit.'
After communicating with some like-minded peers, Lv Zhitao decided to establish the Label Branch of the Shandong Packaging and Printing Industry Association, which was officially inaugurated on January 8, 2022. He was also elected as the leader of the new branch.
Regarding the future development of the association, Lv Zhitao says: 'At present, the influence of our branch is still relatively small, but we are willing to unite with all like-minded forces to strengthen communication and cultivate the awareness of win-win cooperation. I also believe more peers will see our efforts and join us in the near future.'