05 December 2022
Yuto expands labels business with digital investment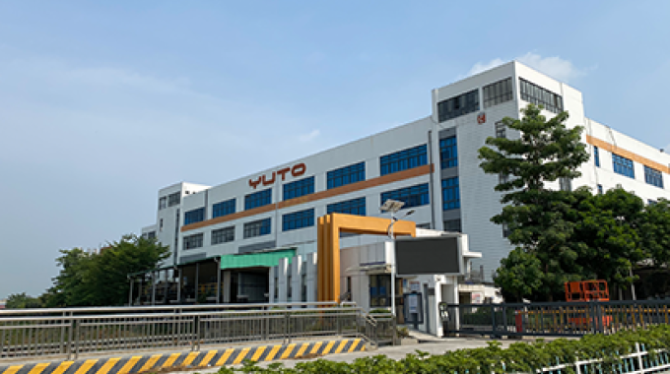 Click on image to download high resolution version
This article by Yolanda Wang originally appeared in the July-September issue of Labels & Labeling magazine.
Established in 2002, Yuto Group is a leading provider of high-end brand packaging in China. It is headquartered in Shenzhen and was listed on the Shenzhen Stock Exchange in 2016.
Yuto serves mainly Fortune 500 customers and high-end brands, specializing in consumer electronics, cosmetics, food, health and tobacco and other industries where it provides a full range of packaging products and services. These include printed boxes, gift boxes, brochures, stickers, cartons and intelligent packaging.
The company has won first place in the awards for the top 100 Chinese printing and packaging enterprises for five consecutive years. In 2022, the revenue of Yuto reached 14.85 billion RMB (USD 2.21bn), up 26 percent over 2021.
New business
From its leading position in the wider packaging industry, Yuto has adopted a strategic plan to make labels a more important part of its overall packaging portfolio.
'The demand for label products has actually been growing among our existing customers all the time, and labels are a very important part of product packaging. The requirements of customers for different types of label products have continuously developed,' says Zhong Yurong, deputy general manager of Yuto's label division. 'Yuto adds functionality to the labels themselves, and we are paying increasing attention to added value.'
Yuto found that some of its existing customers wanted their packaging suppliers to provide integrated solutions, including printed boxes and labels, to solve the matching problems of label products with the quality, color and delivery time of the whole package.
After a period of trial operation, Yuto's label division was officially established in 2013. The group gave clear guidelines for developing this division to expand its customer base and reach out with its services to new customers. To this end, the label division set up a special business section focusing on existing label customers to explore how the business could be developed. Zhong Yurong became the head of the label division in 2014.
Through the efforts of this team, Yuto became a label supplier to Huawei in 2014. Since then, the label division has secured more large customers including, Xiaomi, Lenovo, Motorcycle, Scud, Meitu and Tiancai, laying a firm foundation for the rapid development of the whole division.
At present, the label business of Yuto is mainly distributed in three regions: south China, north China and east China, allowing for the fastest local delivery to the customer's closest production factory. To date, the monthly revenue of the label business has reached 8-9 million RMB (1.19m USD). Its main label products include electronic labels, household chemical labels, logistics labels, cigarette labels, wine labels and anti-counterfeiting labels, among which electronic labels account for 75-80 percent.
Digital
In January 2021, Yuto ordered its first Flora single-pass UV J-330 digital press from Shenzhen Runtianzhi.
'I began to pay attention to the digital printing technology of the label industry as early as the beginning of our label business,' says Zhong. 'Digital printing technology must be the future development trend and direction, but for label converters like us, the key question is: What's the appropriate time to invest? Which equipment is suitable for the company's products? How do we make good use of the digital press? What is the return on investment?'
Zhon believes that after years of development, digital technology in label printing has now matured. In addition to the well-known international brand suppliers, Chinese manufacturers have been launching more new digital printing equipment into the label market. 'Especially due to the impact of Covid-19, the market demands for short-run label products and variable data are increasing all the time. Therefore, Yuto officially put on the agenda to invest in new digital printing technology in 2020.'
After having examined all the most popular digital technologies, based on electronic ink, toner, water-based inkjet and UV inkjet. Yuto's label division finally locked into UV inkjet label printing technology.
Why did it choose UV inkjet printing? Zhong explains, 'On the one hand, it is highly applicable to a wide range of label materials. On the other hand, our conventional equipment now mostly uses UV ink, which facilitates color matching between the two printing technologies. This is especially important for Yuto, whose customers have very strict requirements on the color of label products.'
As the head of the label division, Zhong Yurong believes that investment in new equipment needs to be considered from different aspects. 'First, the supplier's own qualification and strength. The maintenance and spare parts requirements require strong after-sales and technical support.
'Second, the company's reputation in the industry. Good products need to pass the scrutiny of the market and our customers. The end user's experience and evaluation are of high value. Finally, the most important thing is reliable press operation and technical support, particularly the ability to communicate and solve any potential problem in advance.'
Subsequently, Yuto selected a short list of digital label printing equipment from five well-known suppliers and spent nearly half a year on full comparison and testing.
'In terms of the time in the market, Runtianzhi had not been long in inkjet digital label printing technology, but the digital press they produced had a good reputation in other fields. In addition, in the whole process of proofing and testing, Runtianzhi's technical strength, effectiveness and timeliness of services and the quality control status of its products completely convinced us, which enabled our company to finally determine to invest in the Flora J-330 digital press,' says Zhong Yurong.
After installation, Yuto worked hard on the color management of this digital press, testing the max/min limits and color stability of the machine in a practical production environment. Printing a wide range of test samples allowed the company to fully understand the performance of the equipment.
Future
According to the strategic plan of the Yuto group, the label production unit located in Yuto Technology Park, Dalingshan Town, Dongguan City, will be the most important mass production base for the group's label business in the future.
The new Yuto label division plant has a planned production area of more than 5,000 sqm and about 100 employees. In addition to the newly purchased UV inkjet press, it is also equipped with printing equipment including full rotary letterpress, Zonten intermittent offset press, toner digital press, screen printing machine, as well as a wide range of finishing equipment including rotary die-cutters, flatbed high-speed die-cutters, hot stamping machine and inspection rewinders.
The label division has also set up world-class testing labs, covering all the standard tests, including initial adhesion, peeling force, retention force, eraser, constant temperature and humidity, as well as environmental protection and test equipment.
Zhong Yurong concludes, 'By constantly standardizing and improving the series of processes from incoming materials, printing, finishing, inspection and delivery, we will exert all efforts to provide customers with first-class label products and services.'
At the end of 2021, the label division invested in its first in-line flexo press. 'Yuto aims to supply its customers with different types of label products by continuously improving the company's production strength, to strengthen the adhesion with existing customers, and further assist in developing new customers,' Zhong Yurong says.
From packages to labels, Yuto's label division helps the wider Yuto Group continuously expand the company's service capacity, helping the group build a one-stop packaging service platform.