27 February 2023
Labelexpo makes a triumphant return to Bangkok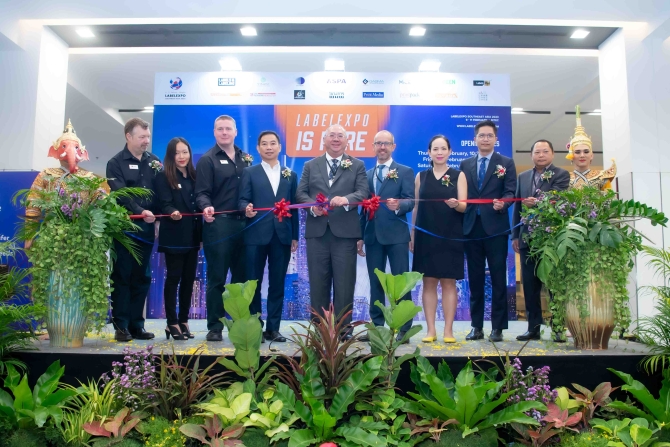 Click on image to download high resolution version
After a wait of almost five years Labelexpo Southeast Asia returned to BITEC in Bangkok on 9-11 February, with 7,448 visitors from 84 countries attending over the three days.
Having successfully launched in 2018 the second edition of Labelexpo Southeast Asia was originally scheduled for May 2020, but was postponed due to the Covid-19 pandemic.
Aimed at connecting printers/converters, brand owners, label and package printing technicians, buyers and design specialists, the event was supported by the Thai Innovative Printing Trade Association (TINPA) and showcased the technologies of over 170 of the region's leading suppliers. The show attracted large delegations from outside Thailand, most notably from Malaysia, China, Indonesia, India, Singapore and Vietnam.
The three-day show featured a Digital Embellishment Trail where visitors were able to view samples and talk to experts about the possibilities of variable embellishment. Participants included Kurz, Grafotronic, Epson and Domino.
Other highlights of the event included Konica Minolta unveiling its AccurioLabel 400 5-color digital label press at the show; Durst showcased its Tau RSC E 330 5c, an entry-level introduction to Durst's Tau RSC technology; Flora also brought its J-330S, a compact 5-color digital UV inkjet machine with Epson print heads; and Malaysian manufacturer Sen Label showcased a high-speed full servo intermittent UV flexo and UV LED letterpress.
Richard Quirk, Event Manager, Labelexpo Southeast Asia commented: "We are delighted with the response we have received from exhibitors and visitors alike. After 5 years away we found a market that was eager to engage with the latest technologies. Over 70% of exhibitors re-confirmed their space for the 2025 edition with many significantly increasing the size of their stands."
Echoing this Marcus Greenbrook, Director, International Sales, GEW said: "It was great to be back at the first Labelexpo Southeast Asia since 2018…we had visitors from all over Southeast Asia, including several from Australia, and the flow of visitors was very high on the first two days. GEW and Press Systems have already signed up for the next show in 2025."
Mr. Mongkol Piannapitham, President of Thai Innovative Printing Trade Association (TINPA) commented: "Labelexpo Southeast Asia 2023 was an important and valuable platform for the industry to reconnect, share valuable knowledge and expertise, to take business forward and to introduce the latest innovations to the leading manufacturers in the region.
"TINPA embraced the opportunity of the 2023 event to stage their technical seminar, TINPA print Awards and to meet once again with Asia's print professionals."
Jade Grace, Portfolio Director, Labelexpo added: "Labelexpo Southeast Asia 2023 was our third successful show in the last six months, which illustrates the post-pandemic resurgence of the label and package printing industry. We look forward now to Labelexpo Mexico 2023 in April and, of course, Labelexpo Europe 2023 in September."
Labelexpo Southeast Asia returns 8-10 May 2025.
For more information visit www.labelexpo-seasia.com.
Quotes from exhibitors:
Spring Xu, International sales manager, WEIGANG Technology: "We are very happy to participate the Labelexpo Southeast Asia 2023 after 3 years not visiting abroad. It's a great chance to meet many old and new friends all over the world which made us closer and tighter. We are exciting and expecting for Labelexpo Mexico 2023 and Labelexpo Europe 2023!"
Ivan Angerer, Marketing specialist, Labels & flexible packaging, Durst Group AG: "Together with our local partner EP Digital our booth offered a unique experience, showcasing the Durst Ecosystem of printer and software. Great encounters, exciting conversations and many plans for the future made Labelexpo Bangkok a complete success for us and will help us to achieve our short, medium, and long-term goals. That's why we have already confirmed our participation for the next edition in 2025."
Ken Wong, Marketing Executive, DNP: " It was great to reconnect and see old and new faces in this exhibition, sharing new products in Thermal Transfer Printing solutions. "
Morten Toksværd, Business Development Director, Grafotronic Finishing Machines: "Labelexpo Southeast Asia was a fantastic and very important event for our Grafotronic SEA division. We are thrilled that so many customers visited our booth and showed a tremendous interest in our automation solutions as well as our remote service and online support concept. We wanted to strengthen our position in this region and Labelexpo Southeast Asia showed us that our approach was correct and that this market has a huge potential."
Duangdee Angsamaporn, Head of Brand Owner Collaboration, Circular Economy and Marketing, SEA, Siegwerk: "Labelexpo Southeast Asia is a fantastic platform that brings together all the stakeholders in the Label industry. Siegwerk has been associated with Labelexpo over the years and we see great value and enjoy the engagement with customers, prospective customers and other partners in the value chain. This year's expo was special in bringing together the industry after the gap of 3 years and the shift towards sustainability was very evident and welcome. We thank Labelexpo for a great show."
Sandeep Sharma, Director, Acme Rolltech Pvt Ltd: "Since past 5 years we are regular exhibitor for all major Label Expo exhibitionsaround the world. Labelexpo South East Asia 2023 was first time for us and we are very happy with response from customers. Our main agenda was to appoint our agent partners in south east asian market and we were very much successful in achieving the same. The arrangements were excellent and great support from received from Tarsus team. We look forward to meet you guys at the upcoming Labelexpo Europe 2023"